Former Bush strategist Matthew Dowd took up the hypocrisy of Republicans worrying about terrorism in Afghanistan while providing a safe haven for local terrorists.
Video:
Matthew Dowd points out on #DeadlineWH that America already has a safe haven for terrorists in the US: "We just have a safe haven for terrorists in America that has grown over the past decade and metastasized and led to an insurrection in our US has led Capitol. "https://t.co/jnVNs1MymM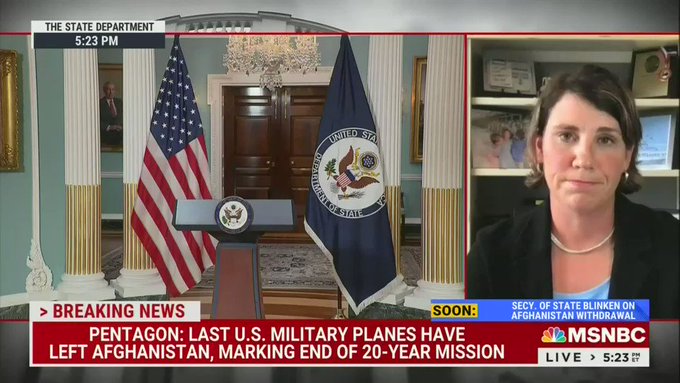 On the MSNBC deadline, Dowd said the White House:
I mean, yes, the victim that was done in the 20's Years was commendable, however Let us think of the victim weren't just the men and women who have served including my son and the others we talked about but the victim of American public about it. That was $ 2 trillion was spent on a failed mission that could have been used the health care of the people here, that could have been used for fighting Terrorism here.
I heard it was us Providing a safe haven for Terrorists in Afghanistan. Well we have a safe haven for you Terrorists in America right now that has grown in the last ten Years and metastasized and led to a riot in our US Capitol.
For me today is yes, but that Sadness is also political decisions made in the last 20 years that allowed us to be in this place where we've lost thousands of men and women and we've lost trillions Dollar in the thick of it and we have to go. I have to say thank you, President Biden because he is the making first of four presidents the difficult decisions.
Republican hypocrites worry about Afghanistan but promote domestic terrorism in the US
Dowd was right on all counts. The same Republicans fear Islamic terrorism, and Afghanistan is hiding the facts from an investigation into a domestic terrorist attack by Donald Trump's supporters on the Capitol.
Republicans can't have both. They cannot be anti-terrorism when it comes from foreign terrorists, but pro-terrorists when it is their constituents who are trying to keep a president who lost an election in power.
The GOP wants to pretend the last decade never existed, but they have ruined their own credibility with terrorism.
Mr. Easley is the managing editor. He is also the White House press pool and congressional correspondent for PoliticusUSA. Jason has a bachelor's degree in political science. His thesis focused on public policy with a specialization in social reform movements.
Awards and professional memberships
Member of the Society of Professional Journalists and the American Political Science Association